When it comes to business, things have changed in the past few years and it doesn't look to be changing that drastically any time soon. Remote work has exploded in popularity, and with small business formation booming, interest in flexible workspaces has grown exponentially. 
While work was once synonymous with a traditional office, storefront, or job site, nowadays you can work from just about anywhere. Virtual offices and coworking spaces are two popular substitutes for traditional office space, offering different levels of workspace flexibility.
But, which is right for you?
Virtual offices provide a mix of remote and physical office services, offering a combination of tools and services designed to provide you with all the benefits of a physical office, while you work remotely. Unlike a regular office suite, you don't actually rent physical working space in an office. Instead, you rent the address located at a physical office building.
This is one of the most important aspects of a virtual office. In order to fulfill many key requirements of running your business – such as entity registration, forming an LLC, applying for business licenses, and so on – you need to provide the government with a physical address and be on major Directories. 
And, while you can use a home address, this option helps separate your personal and business finances, and protect your personal assets. This also builds your company's credibility, as it reassures clients, partners, and potential lenders that your company is a legitimate organization and not a fraudulent enterprise.  
Virtual offices also give you the flexibility of remote working while still ensuring you have somewhere professional to meet with partners or clients. Onsite meeting rooms and office space can be used as needed and paid for by the hour, offering a highly flexible workplace solution.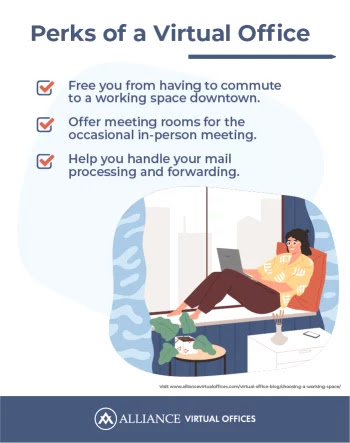 Coworking spaces are flexible working spaces located throughout the US, and globally. They provide a mix of rented desks within an open, shared office, along with designated offices for private working space. Onsite amenities usually include a variety of meeting rooms, lounge and kitchen areas, event space, a coffee station, and a receptionist desk.
Coworking spaces host a range of workers from several different organizations simultaneously – hence the name 'co' working. The result is a collaborative, community-focused work culture.
Ideal for entrepreneurs who want a supportive, amenity-rich work environment away from the home, entrepreneurs can rent a desk in a shared workspace or commit to their own private office with full-time access. Coworking is useful for building connections and gaining inspiration from others.
Ultimately, a coworking space provides many of the same features as a virtual office.
A business address
A place to receive mail and have it forwarded
Meeting rooms
Shared or private workspace (often both)
Onsite staff to offer support, greet visitors and set up meeting rooms
The main difference is that coworking spaces are set up to accommodate people who want a regular place to work, often on a full-time basis. This is reflected in the price. A virtual office does provide a physical workspace, but it's accessible on an hourly or daily basis and paid for as needed. That's why the cost of a virtual office is typically much lower.
The right working space depends on your business needs, but also your own personal requirements. An extrovert might not enjoy working at home alone and therefore a virtual office might not be enough. On the other hand, introverted people may not need a coworking space. If you find you do your best work in a quiet environment, you may find that the best solution is to work from home and use a virtual office for your business.
Once you have decided what's the right fit, one resource you need to consider for finding the right space for you is a company called Alliance Virtual Offices. They help innovative businesses scale faster with high-quality flexible workspaces and market-leading tech infrastructure. With their network of 1200+ global locations, you can modernize the way your business operates.
Both options are available with Alliance Virtual Offices and are flexible, service-led, and cost-efficient. Head over to their site today to learn more and chat with an expert to find the flexibility you need for your work.
If you need assistance starting your business we have our Ultimate Small Business Master Class and Business Bundle. We Build Business Foundations for small business owners to grow and scale using foundational tools like Live Plan, Quickbooks, Marketing tools and LLC Formation.
Do What You love!